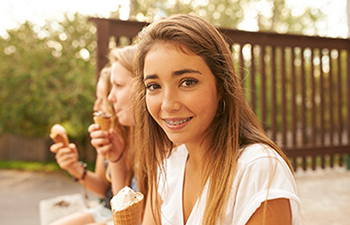 The key differences between ceramic braces and traditional braces have to do with visibility, cost, maintenance requirements, and treatment process. We understand that some of our patients can be uncomfortable with the idea of braces on their teeth, which is why we sometimes recommend ceramic braces treatment. For more information, so you can make the best decision for you or your child, keep reading.
If you have any questions after reading this article, please feel free to contact us and we'll get back to you with an answer as soon as possible.
Subtly
Ceramic braces are less noticeable than traditional braces because natural tooth enamel. This means that unless someone is standing right next to you, it is difficult for them to see that you are wearing orthodontics.
mimic the color of your
Many adults seeking to correct their bite may choose ceramic braces to retain a professional smile and avoid the stigma of .
Teenagers may also benefit from benefits of ceramic braces for teens is the flexibility it allows them in their growing lives.
because they are less noticeable. One of the
Traditional metal braces can make anyone feel self-conscious, especially teenagers. If you are interested in the possibility of , we recommend having a conversation with an orthodontist in Grand Rapids.
Cost
Unfortunately, the
is higher than metal brackets.
The cost of ceramic braces is partly due to the materials that are used in them. For example, the ceramic brackets used in the
brand are made out of pure grown sapphire crystals that are honed, heat, and polished to look translucent.
Determining the average cost of ceramic or traditional braces is difficult because each patient's treatment plan is different. If you're looking for more information, we have an updated blog post called How Much Do Braces Cost? but it's also best to consult with your orthodontist.
Treatments Level
Everyone's reasons for braces varies. Ceramic braces have come a long way, but some extensive care needs still require traditional braces.
If you or your child need an extensive amount of orthodontic treatment for your best smile, your orthodontist may recommend traditional braces.
The process of getting your teeth to move to their optimal alignment requires that a certain amount of pressure be applied. Unfortunately, the material in ceramic brackets is brittle and more likely to chip or break than metal braces.
Ceramic braces are best suited for minimalorthodontic treatment plans. Be sure to speak with your orthodontist to see whether ceramic or metal braces will be more appropriate.
Maintenance
The clear or white ligatures used with ceramic brackets are more susceptible to staining than their traditional counterparts. This is a constant concern during treatment, which is why your orthodontist will replace the clear elastic bands at each adjustment. The actual brackets for clear braces are stain-resistant.
Ceramic brackets are larger than metal ones, which can make brushing and flossing your teeth even more of a hassle. With both traditional and ceramic braces, it is important that you brush your teeth twice a day to maintain a fresh look and good oral health.
For more tips on maintaining a healthy mouth while wearing braces, we recommend having a discussion with your orthodontist.
Aftercare
For both clear braces and traditional metal braces, you will need to wear a retainer after they've been removed.
A retainer helps keep your teeth in their new place. Over time, teeth will subtly shift back to their former position without a retainer. For more information, check out our updated blog on Why You Need Retainers after Braces and Invisalign® >>
In Need of Braces?
If you're in need of a braces treatment, be sure to contact Armbrecht & Wierenga Orthodontics online or call us by phone at (616) 455-4800. As a Grand Rapids and Grandville orthodontists, the dental professionals at Armbrecht & Wierenga Orthodontics pride themselves on helping people achieve their best smile.