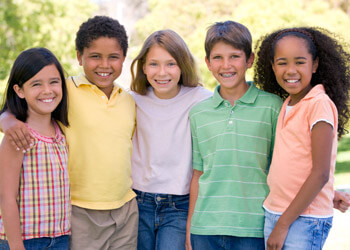 Your mind is probably buzzing with questions about your child: Will those spaces close? Are my son's jaws fitting together right? At what age should she be losing her baby teeth? In which order should they come out? What happens if he doesn't get braces? Is my daughter's mouth growing like it should be? Will she even need braces?
Each child comes with his or her own individual set of dental and facial issues that need to be evaluated. The American Association of Orthodontists recommends that a child has their first orthodontic exam around the age of seven. After the age of eight, it's possible that we might miss a window of orthodontic-troubleshooting opportunity.
At Armbrecht & Wierenga Orthodontics, our doctors will evaluate your child's facial pattern to look for proper balance, symmetry and growth. We'll count the number of teeth, take appropriate x-rays, and make sure that you know where, when, and how to go about helping your child get all their teeth into a great smile with correct alignment in healthy, well-developed jaws.
Along the way we'll advise your family how to minimize any problems that come while children grow into their face and jaws. Most importantly however, Dr. Armbrecht & Dr. Wierenga want to make sure every child feels comfortable getting check-ups before actual treatment is needed. We believe that getting good results, regardless of the type of treatment, starts with a good doctor/patient relationship.
Common Treatment Options
Phase 1 Braces
A few brackets on key teeth to make space for incoming adult teeth or to make minor movements for improvement. These movements help close up big spaces, fix cross-bites, or help prevent anything that could potentially harm the gums, teeth, or bite. This phase is essentially a basic braces quick-fix followed by a retainer. Because these beginning – Phase I – braces are typically followed by normal teenage/adult braces, we try to make this experience as fun and noninvasive as possible.
Expanders
Early treatment is a great time for us to expand the jaws to make room for teeth while getting the back teeth into proper alignment, this also leads to an increased ability for children to breathe correctly and helps ensure growth patterns are correct...Don't worry, during your consultation we'll explain why, when, if, and how these are used.
Observation
No treatment. This is a very important treatment decision. A time to take a step back and observe a child's facial and dental development every four to six months. This will help us decide the best option when/if treatment is needed after all the teeth have come in. Many kids will fall into this category as we wait it out to make sure things progress normally.
We don't believe in charging for these check-ups because of the importance of planning ahead and evaluating your child's growth progress. If treatment is indicated, finances will be discussed at that time.
What are the potential advantages of phase I treatment?
Creating room for crowded, erupting teeth
Developing healthy, open nasal airways
Creating facial symmetry by influencing proper jaw growth
Reducing the risk of trauma to protruding front teeth
Preserving space for unerupted teeth
Reducing the need for tooth removal
Reducing overall treatment time with braces
Contact us today for a complimentary initial consultation to see if your child could benefit from a first phase of treatment.