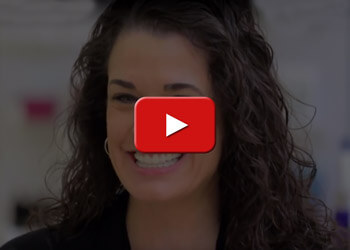 If having noticeable metal braces on your teeth is a concern for you, one option available for treatment is ceramic braces. Our Grand Rapids orthodontists are proud to offer , the clearest ceramic twin bracket available.
Each Radiance Plus bracket is created from a single crystal of pure grown sapphire – the crystal is then honed and heat polished into a remarkably strong and beautiful bracket that's nearly invisible.
Here's what you need to know about
for your orthodontic treatment.
Benefits of Ceramic Braces
If you work in a profession where you're constantly meeting with people or performing in front of them, you may have cosmetic concerns with regards to orthodontic treatment. We get it, visible metal on your teeth can make you feel self-conscious. For this reason, our orthodontists may suggest you go with ceramic braces.
Learn More → How Do Ceramic Braces Differ From Traditional Braces?
Because they consist of clear brackets and if desired, clear archwires, ceramic braces are not immediately apparent. Their nearly invisible appearance allows them to blend in with your teeth and not stand out. Our orthodontists have recommended ceramic braces to plenty of teen and adult orthodontic patients.
In general, wearing ceramic braces offer:
A toned down look
Clear or tooth-colored components that closely match your natural enamel
The same effective and proven orthodontic technology as traditional braces
A discreet option for those with severe cases of malocclusion who don't otherwise qualify for Invisalign® clear aligners
A reduced chance of imaging (MRI) scan interference
Ask Us About Starting Treatment Today
Do you like the sound of ceramic braces and want to know more? Our orthodontists in Grand Rapids, MI, would be happy to have you into one of our offices to speak further about how your treatment might look. Call Armbrecht & Wierenga Orthodontics today at (616) 455-4800 or contact us online to set up an initial consultation.