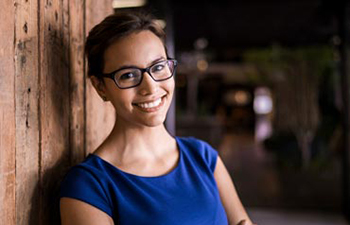 A smile can tell a thousand stories. It can tell how you view yourself, whether you have self-confidence or whether you are embarrassed by your appearance. Research shows, if you try and hide your teeth when you smile you are telling the world that you lack self-esteem. Invisalign can help boost that self-esteem and confidence and enables you to tell the world that you are ready to face any challenge – with a healthy-looking smile on your face.
Invisalign aligners are a product that straightens teeth through the use of clear braces. It can help you in many ways outside of sheer vanity. For one, it gives you cleaner teeth. The number one complaint of people wearing traditional teeth braces is that they cannot clean their teeth properly. They must work around metal brackets, wires and rubber bands when brushing; in addition, food often gets caught in hard to reach areas covered by metal braces. With Invisalign, you can remove the aligners, enabling you to brush your teeth as you would normally – while also cleaning all of those hard-to-reach spots.
Invisalign Aligners vs. Traditional Braces
Invisalign aligners also save you from the embarrassment of braces, particularly if you are an adult professional who must give frequent presentations in front of important people. Traditional braces are viewed as something worn as a youngster; when you reach your 20s, 30s and 40s and beyond, metal braces do not help you to exude that polished, professional look that you need.
An orthodontist offering Invisalign provides the opportunity to maintain your self-confidence in front of your peers while having your teeth corrected in a way that keeps you on top of your professional game.
If you are interested in learning more about our Invisalign aligner treatments, please consult with Armbrecht & Wierenga Orthodontics at (616) 455-4800 about the best way to enhance your smile – and boost self-confidence at the same time.