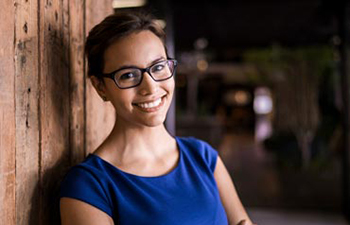 Your smile tells your story before you even say a word. It can tell how you view yourself, whether you have self-confidence or whether you're embarrassed by your appearance. Research shows that 57% of Americans cover their mouths when they laugh because they feel insecure about their teeth, and 50% will almost always try to smile with their mouths closed. Invisalign® aligners can help boost your self-esteem and confidence with a straighter smile.
What Is Invisalign?
treatment uses clear aligners to straighten your teeth over time. Our doctors use 3D modeling to develop a plan to move your teeth from their current position into a straighter smile. We use impressions of your teeth to make these aligners for you.
You'll need to wear your aligners 22 hours a day, and we'll replace them with a new set every two weeks as your teeth gradually move to their new positions. On average, it takes about 14 months to achieve your new smile. After treatment, we'll encourage you to continue wearing a retainer at night to protect your smile.
How to Take Care of Your Invisalign Aligners
To achieve your new smile, you'll need to take good care of your aligners. In general, that means:
Brushing and flossing after meals
Avoiding staining drinks
Wearing your aligners 20 to 22 hours a day
Storing your aligners properly when you're not wearing them
Invisalign Aligners vs. Traditional Braces
Maybe you've wanted a straighter smile in the past, but you didn't want to deal with traditional braces. Invisalign aligners offer a great alternative to traditional braces while still achieving the same results.
Clear Aligners
The most obvious benefit of using Invisalign instead of traditional braces is that your aligners are clear.
Our culture tends to view braces as something only young people wear. Once you reach your 20s, 30s, 40s, and beyond, metal braces don't help you exude that polished, professional look you need. Invisalign can straighten your smile without making you feel like you're back in middle school.
Cleaner Teeth
The number one complaint of people wearing traditional teeth braces is that they cannot clean their teeth properly. They must work around metal brackets, wires, and rubber bands when brushing. Food often gets caught in hard-to-reach areas covered by metal braces.
With Invisalign, you can simply remove your aligners so you can brush your teeth like you normally would. Being able to remove your aligners also allows you to clean those hard-to-reach spots.
Which Is Faster?
If you want to increase your confidence with a new smile fast, then Invisalign may not be right for you. In general, traditional braces close gaps and align teeth faster than Invisalign.
For some, a faster process outweighs the temporary discomfort of wearing visible metal braces and dealing with a more difficult teeth cleaning routine. Speak with our orthodontists to determine whether Invisalign or traditional braces are right for you.
Reclaim Your Confidence with Invisalign
Your smile shouldn't stand in the way of your self esteem — it should enhance it. Invisalign aligners can help you get the smile you deserve so you can walk through your life with more confidence. Our Grand Rapids, MI, orthodontists can help you achieve a brand new smile with Invisalign. Call Armbrecht & Wierenga Orthodontics at (616) 455-4800, or contact us online to learn more.
This blog post has been updated.