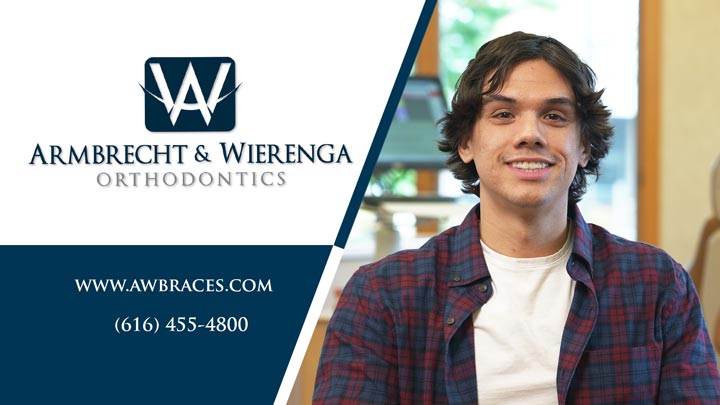 Invisalign® clear aligners take a modern approach to straightening teeth, using a custom-made series of trays created specifically for you and only you. Our Grand Rapids, MI, Invisalign orthodontists recommend the treatment option to both teen and adult patients.
Here's what you need to know about
and its benefits.
What Is Invisalign?
Invisalign as a form of orthodontic treatment consists of a collection of top and bottom aligner trays that are made out of smooth, comfortable, and virtually invisible plastic. Patients are expected to wear them over their teeth for 20-22 hours a day. The act of wearing the aligners will gradually and gently shift your teeth into place, based on the exact movements our doctors have planned out for you.
There are no metal brackets to attach and no wires to tighten. You just pop in a new set of aligners approximately every two weeks, until your treatment is complete. You'll achieve a great smile with little interference in your daily life.
Learn More → Invisalign® FAQ
Top Advantages of Choosing Invisalign®
Metal or ceramic braces are always solid choices but they don't appeal to everyone. Our orthodontists offer for patients who are instead seeking a more low-profile but still incredibly effective type of treatment.
In general, Invisalign provides the following benefits:
Desired results can be achieved in 12 months or less, depending on the patient
Comfortable aligners that are nearly invisible to family, friends, and co-workers
Freedom to remove aligners for eating, drinking, brushing, and flossing
An unrestricted diet; no need to avoid sticky or chewy foods.
Easier oral hygiene thanks to the ability to remove the aligners
No repairs or adjustments needed; you simply move on to the next set of aligners when instructed
Learn More → Is Invisalign® Right For Me?
Let's Talk Invisalign Today
The best part about choosing Invisalign (amongst other things) is that most people won't even know you're straightening your teeth! If you are interested in finding out whether you're a candidate for clear aligners, our Invisalign orthodontists in Grand Rapids, MI, can help you get started. Call Armbrecht & Wierenga Orthodontics today at (616) 455-4800 to set up a complimentary consultation.