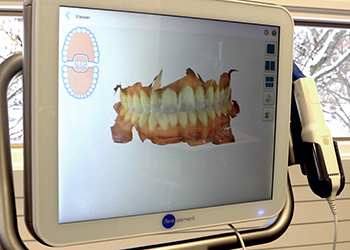 With the Grand Rapids orthodontists can take digital images of your entire mouth in just a few minutes. Unlike traditional methods, the iTero scanner does its job without the use of any goopy or messy putty in trays. The result? More precise and detailed impressions that can be utilized for metal braces or Invisalign® clear aligners.
, our
How Does the iTero Scanner Work?
Erase any image you have in your mind of gently biting down on a tray filled with putty-like material. Those days of dental impressions are over. Thanks to the iTero scanner, there's no longer any mess and certainly no risk of gagging.
The handheld wand of the
machine eliminates the need for malleable material as the action of moving it around your mouth digitally captures the structure of your teeth and gums. The images taken are then conveniently displayed on a nearby mobile screen in real time.
There is a laser that is emitted from the wand but it's completely safe and radiation-free. Without the laser technology integrated into the iTero wand, our orthodontists wouldn't be able to have detailed 3D renderings of your teeth and soft tissue structures.
The Many Uses of Digital Impressions
A complete scan using the iTero system may only take a couple minutes to complete, but the results collected have many individual uses. For instance, the digital impressions can come in handy for all forms of orthodontic treatment.
Regardless of what you choose, the iTero scanner can help with planning for:
Start Your Smile Journey Today
Dreading the dental impression process is a thing of the past! The iTero intraoral scanner allows our orthodontists in Grand Rapids, MI, to easily capture images of your entire mouth and determine individual treatment needs. Call Armbrecht & Wierenga Orthodontics today at (616) 455-4800 or contact us online to get started.