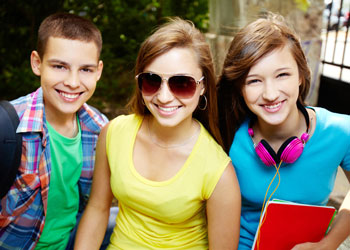 At Armbrecht & Wierenga Orthodontics, our Grand Rapids orthodontists realize that every teen is different. So when it's time for braces, we will find the type of treatment that will ensure the most functional, best-looking result possible.
For instance, some teens will need palatal expanders, braces and rubber-bands, while others may prefer Invisalign®.Some patients may only need a retainer. At AWO, we treat each teen uniquely and individually; there is no "one-size-fits-all" in orthodontics.
We'll Meet You Where You Are
If your teen had
with us as a junior, we may find that there's minimal remaining work to be done to finish off their perfect smile. If you weren't able to have your child in for treatment when they were younger, don't worry! It's never too late to enhance their smile.
While teen treatment in a single phase instead of two can take more time, we have options available when it comes to achieving that million-dollar smile!Single phase treatment can involve traditional brackets and wires, expanders, ceramic brackets and wires, or clear aligners.
The method of single phase treatment depends on your needs and any preferences you may have for treatment. Above all else, our goal is to meet your needs and desires while also achieving the highest quality results.
Teen Treatment Options
We have 3 core treatment types available to teens. Before anything is chosen, however, our team of orthodontists will conduct a thorough oral examination. This exam will help to determine what form of treatment is best. For example, if a severe overbite is found, we will likely recommend either metal or ceramic braces instead of Invisalign.
Conventional Braces
Good ol' classic metal brackets with wires, rubber-bands, etc. This tried and trusted option can tackle crooked and crowded teeth as well as a myriad of bite issues that range in severity. It's also great for children, teens, and adults.
Learn More: 5 Reasons Why You Might Need Braces →
Clear Ceramic Braces
Less noticeable and more toned down, ceramic braces use tooth-colored brackets and a more discreet wire color to straighten teeth. We use the latest in cosmetic brackets from American Orthodontics.
Learn More: 5 Benefits of Ceramic Braces for Teens →
Invisalign®
Thin, clear aligners that are designed to be worn over the top and bottom teeth. Each set of aligners in your personalized "series" is changed a couple times a month to move teeth incrementally. No wires, elastics, or brackets are used.
Learn More: Invisalign® FAQ →
Get Started Today
If you feel your teen could benefit from treatment, our orthodontists in Grand Rapids, MI, would love to sit down and discuss options. Call Armbrecht & Wierenga Orthodontics today at (616) 455-4800 or contact us online for a complimentary initial consultation.