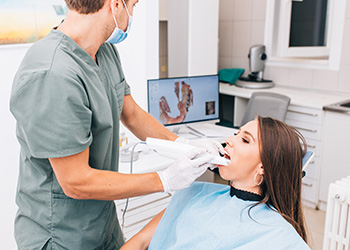 At Armbrecht & Wierenga Orthodontics, we strive to make the patient experience as streamlined and enjoyable as possible. One way that we do that is to offer the latest dental technology. It is with these advanced tools that our Grand Rapids orthodontists can create digital impressions, braces components, and develop accurate treatment plans.
Read more about the various forms of technology we offer inside of our West Michigan
offices.
With the iTero® intraoral scanner, our orthodontists can take digital images of your entire mouth in just a few minutes. Unlike traditional methods, the iTero scanner does its job without the use of any goopy or messy putty in trays. The result? More precise and detailed impressions that can be utilized for metal braces or Invisalign® clear aligners.
Learn More →
Taking dental X-rays has never been easier than with the help of our cone-beam computed tomography (CBCT) system. All patients need to do is stand still while part of the machine rotates around their head and captures data with a cone-shaped X-ray beam. This data is then transformed into a 3D image of your teeth and maxillofacial region (mouth, jaw, and neck) for use by our orthodontists.
Learn More →
Our orthodontists are proud to offer patients of all ages the opportunity to choose the world's only 3D printed braces for their smile. LightForce customized clear braces consist of made-to-order brackets that are individually tailored to your dental anatomy and closely match the natural shade of your teeth.
Learn More →
Make an Appointment Today
Integrating a wide array of different technology into our multiple offices not only makes the entire orthodontic process smoother for our orthodontists in Grand Rapids, MI, but for our many patients as well. To experience the equipment yourself and schedule an appointment, call Armbrecht & Wierenga Orthodontics today at (616) 455-4800 or contact us online.