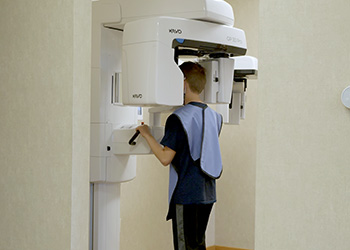 Taking dental X-rays has never been easier than with the help of our Grand Rapids orthodontists.
system. All patients need to do is stand still while part of the machine rotates around their head and captures data with a cone-shaped X-ray beam. This data is then transformed into a 3D image of your teeth and maxillofacial region (mouth, jaw, and neck) for use by our
Benefits of 3D Dental X-Rays
Aside from the accuracy and detail they produce through images, 3D X-rays also have other notable benefits. Those include:
Fast process; patients aren't standing for more than a few minutes
Non-invasive
Can help pinpoint a patient's specific orthodontic issues thanks to 360-degree image
Very low level of radiation exposure (about equal to a day at the beach!)
Less distortion or need for X-rays to be retaken (compared to 2D X-rays)
Are 3D Dental X-Rays Safe for Me?
Yes, having 3D X-rays taken is relatively safe. Keep in mind that the amount of radiation that you are exposed to is very small, thus making them even safer than traditional
. The information we obtain from your x-rays is valuable to determine the appropriate treatment for you or your child, which ensures treatment plans are appropriate and that treatment outcomes are ideal.
Overall, 3D X-rays provide better image quality, less radiation exposure, and increased treatment accuracy. These three reasons are why our orthodontists have chosen to make a dental CBCT system available to patients looking to pursue metal braces, ceramic braces, or Invisalign® clear aligners.
Make an Appointment
The 3D X-ray process is quick, painless, and produces excellent results with regards to treatment planning. Our orthodontists in Grand Rapids, MI, are proud to have specialized CBCT systems at both of our West MI locations. Call Armbrecht & Wierenga Orthodontics today at (616) 455-4800 or contact us online to set up an appointment.