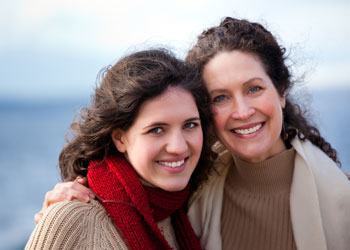 Many adults tend to think that it's too late for them to straighten their smile and that they've missed the "cutoff" date for orthodontic treatment. Fortunately, there is always time to make changes and our Grand Rapids orthodontists are here to help!
Whether you're a parent, career-driven professional, or both, it's about time you did something for YOU. An attractive smile, straight teeth, and comfortable bite is a great place to start. When you come in for your complimentary consultation, we will walk you through a complete oral examination.
During this exam, we will take appropriate X-rays and photos to analyze your tooth shape, bite, jaw alignment, and all aesthetic aspects of your lips and mouth. This is done to show you how your smile would benefit from braces. We'll then discuss the functional aspects of your teeth and jaws.
Our orthodontists want you to know exactly how your face, jaws, and smile might improve with orthodontic treatment. Our focus is always on educating our patients. You'll leave your consultation knowing what we recommend and the approximate time we estimate your treatment will take.
Adult Treatment Options
When it comes to orthodontic treatment, there aren't really "teen" and "adult" options. Adults are welcome to choose from all that we have available. If clear aligners as well. Our orthodontists will be sure to also discuss each form of treatment with you.
work best, go for it. If you'd instead prefer a more discreet approach, we have
Conventional Braces
With traditional metal braces, we use slim, low-profile, nickel-free, stainless steel metal brackets in conjunction with the latest in wire technology.
Learn More: Why it's Never Too Late for Adult Braces →
Clear Ceramic Braces
Transparent brackets using normal wires, white or transparent ties, and other techniques to hide the fact that you're wearing braces. The overall look is enhanced thanks to the latest in cosmetic brackets from American Orthodontics.
Learn More: How Do Ceramic Braces Differ from Traditional Braces?→
Invisalign®
Clear aligners that move the teeth through small incremental movements. Your clear aligners are changed every two weeks and can be removed for eating, drinking (beverages other than water), and oral hygiene. If this sounds appealing to you, let's talk!
Learn More: Pros and Cons of Invisalign® →
Make an Appointment
Our orthodontists in Grand Rapids, MI, have helped countless adult patients transform their smile with treatment. If you're ready to start the discussion about your teeth, call Armbrecht & Wierenga Orthodontics today at (616) 455-4800. Feel free to also contact us online and we'll reach out as soon as possible.