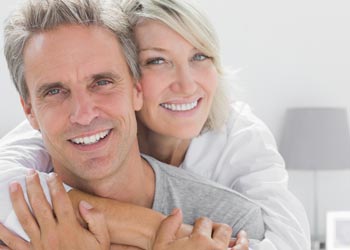 Did you miss out on having braces when you were a child or teenager? It's never too late to straighten your smile, which is why your general dentist may recommend you see an orthodontist for adult braces. It's never too late for adults to get teeth braces.
While most of our patients at Armbrecht & Wierenga Orthodontics are young children and teenagers, adults can still get braces to achieve a straighter smile. Keep reading to learn the advantages you have as an adult seeking orthodontic treatment.
Adults Have More Options
There are many different ceramic braces match the color of your natural tooth enamel. Many of our adult patients choose ceramic braces because they are more subtle than traditional metal braces.
for you to choose from. For example,
If you feel self-conscious about wearing dental braces, you may want to ask your orthodontist about Invisalign. Invisalign are clear aligners or invisible braces that fit over your teeth to move them little by little. Like the name suggests, Invisalign braces are nearly invisible, which means they'll be undetectable to your friends, family, and coworkers.
Adults Follow Instructions Better
Adults tend to take better care of their teeth than children and teenagers. This means that you are much more likely to be compliant with braces care instructions given by your orthodontist than a child or teenager would.
For example, during your orthodontic treatment you'll need to stay away from foods that are hard like raw carrot or sticky like caramel. As an adult, you've had enough life experience to know that it pays to follow your instructions from your . As a result, you won't end up with broken brackets or wires.
Adults Take Better Care of Their Teeth
Adults are less likely to neglect teeth brushing and flossing than young children, which is one of the reasons why your orthodontic treatment would be more successful. It takes diligence to keep up with flossing around wires and brackets. Thankfully, adults are more motivated than children to keep their teeth healthy and in good shape.
Adults Are More Motivated
One of the reasons why adult braces are successful is because the patients are more motivated. If you are uncomfortable with how your teeth look now, you probably remember times when you covered your smile or envied people with straighter teeth. Your smile is part of how you make a good first impression. Since adults are well aware of this, they are more motivated to start and finish orthodontic treatment.
Your Oral Health Improves
Misaligned teeth increase your risk of cavities and gum disease. Straightening your teeth is about more than just improving the appearance of your smile, it's also about maintaining good oral health. When teeth are crowded and overlap, it can be hard trying to get a toothbrush around individual teeth.
Thankfully, orthodontic treatment for adults is designed to move teeth little by little into proper alignment. Teeth alignment is so important for maintaining a healthy smile because it prevents plaque and bacteria from hiding in between crowded teeth.
The orthodontists for adults at Armbrecht & Wierenga Orthodontics are dedicated to helping you achieve your best smile. If you are interested in or Invisalign aligners, schedule an appointment with one of our Grandville orthodontists at (616) 455-4800.